New Music : Bitter Bitter Weeks
June 14, 2007 by
-tom
Filed under: Uncategorized
Bitter Bitter Weeks – Lo-res
This past Tuesday saw the release of the excellent new disc from Philadelphia's Bitter Bitter Weeks, Peace Is Burning Like A River. The first two Bitter Bitter Weeks records were essentially solo records by Brian McTear. For this disc the he wanted to develop a more complex and orchestrated sound and enlisted supporting musicians and featured guest performances by members of Mazarin, Apollo Sunshine, The A-sides, BC Camplight, The Velvet Crush and more. The result is reminiscient of the powerful jangly sounds emanating from the deep south in the 80's from bands like REM, Let's Active, and The Db's.
There are also companion videos for each song being released check out the clip for Lo-res, one of my favorite songs from the new disc, above. See them all as they are released at http://peaceisburninglikeariver.com/
Bitter Bitter Weeks have some shows coming up this week including tonight in Boston and a big CD Release party this weekend in Philadelphia at Johnny Brendas. Be sure to head on out.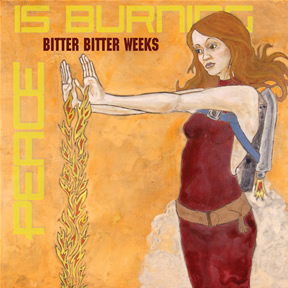 Here's another track from the new disc, Peace Is Burning Like A River.
MP3 : Bitter Bitter Weeks – Terrified
Buy Peace Is Burning Like A River

Upcoming Shows
Jun 14 2007 8:00P The Middle East (Upstairs) Cambridge, MA
Jun 16 2007 8:00P Johnny Brendas (w Mary Timoney and Georgie James) PA
Jul 20 2007 1:00P XPonential Music Festival (WXPN) Camden, New Jersey
[MYSPACE]
Comments