Reviewer #10 from Mrs. Doyles's 8th Grade Class has this to say upon hearing two tracks from the new White Rabbits album
Well I'm not sure which two songs Mrs. Doyle's class got to listen to, but there's a handful of really grooving tracks on the new White Rabbits debut disc, Fort Nightly. Overall, it only really hits it right about half of the time but when it does, it struts along like The Killers with a sense of swagger.
Check out the opening track Kid On My Shoulders with it's propulsive keyboard rhythm part and staccatto guitars and try not to dance along. I 've had this one on repeat all weekend long.
MP3: White Rabbits – Kid On My Shoulders
[WEBSITE] [MYSPACE] [BUY AT AMAZON] [BUY AT iTUNES]
Concerted by Jonathan Fischer

–
www.myspace.com/concertedcomic
Today in 2000, Rapper Nate Dogg was arrested for allegedly kidnapping his girlfriend from her mother's house, holding her against her will, assaulting her and setting a car on fire. All charges were later dismissed.

These things happen. I'm sure it was all just a misunderstanding.

Today for 5 On A Friday In honor of the fact that I'm seeing him at World Cafe Live in Philadelphia this afternoon and since the Easy Tiger hasn't arrived yet, I thought I'd bring you some hard to find Ryan Adams B-sides to get your Ryan Adams fix for today.
1: Ah, Life
from So Alive single
2: One By One
from Wonderwall single
3: Don't Even Know Her Name
from So Alive single
4: Closer When She Goes
from This Is It single
5: I Wanna Go Home
from Wonderwall single
[RYAN ADAMS WEBSITE]

UPDATE : All Mp3 links now fixed. Setlist and Streaming audio of this afternoon's show added
Ryan Adams And The Cardinals
WXPN Free At Noon
World Cafe Live , Philadelphia, PA

Two
I Taught Myself How to Grow Old
My Winding Wheel
I See Monsters
Goodnight Hollywood Blvd.
Oh My God, Whatever, Etc.
Nightbirds
Let It Ride
Blue Hotel
Songs played off air
Carolina Rain
Dear John
Stream it on the NPR archive here
Bitter Bitter Weeks – Lo-res
This past Tuesday saw the release of the excellent new disc from Philadelphia's Bitter Bitter Weeks, Peace Is Burning Like A River. The first two Bitter Bitter Weeks records were essentially solo records by Brian McTear. For this disc the he wanted to develop a more complex and orchestrated sound and enlisted supporting musicians and featured guest performances by members of Mazarin, Apollo Sunshine, The A-sides, BC Camplight, The Velvet Crush and more. The result is reminiscient of the powerful jangly sounds emanating from the deep south in the 80's from bands like REM, Let's Active, and The Db's.
There are also companion videos for each song being released check out the clip for Lo-res, one of my favorite songs from the new disc, above. See them all as they are released at http://peaceisburninglikeariver.com/
Bitter Bitter Weeks have some shows coming up this week including tonight in Boston and a big CD Release party this weekend in Philadelphia at Johnny Brendas. Be sure to head on out.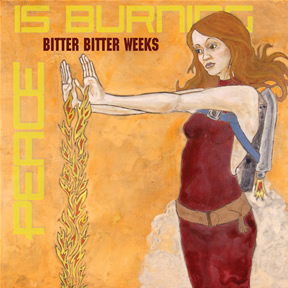 Here's another track from the new disc, Peace Is Burning Like A River.
MP3 : Bitter Bitter Weeks – Terrified
Buy Peace Is Burning Like A River

Upcoming Shows
Jun 14 2007 8:00P The Middle East (Upstairs) Cambridge, MA
Jun 16 2007 8:00P Johnny Brendas (w Mary Timoney and Georgie James) PA
Jul 20 2007 1:00P XPonential Music Festival (WXPN) Camden, New Jersey
[MYSPACE]
For today I'd thought I'd bring you an update on what some of our former Artists Of The Day have been up to. They're all amazing talents that will be much more famous than just a mention on my blog someday. Remember, so you can proudly say "I knew them way back when…"


First up, Bless 1. One of Chicago's finest hip hop producer/artists, Bless 1 has teamed up with producers from around the world as Digital Invaders. They've put together a very cool all instrumental hip hop disc entitled Invasion. In addition to Bless 1 the also featured are are SUFF DADDY, HAZEEM, LOKID, ELLIPSIS, POWELL, THEWORTHLESSFEW, and AL'KAY FOUNDATION And to make it even better they're giving it away FREE. Check out these couple tracks then download the whole thing here (as a .RAR file).
MP3: Bless 1 – June (featuring Lokid)
MP3: TWFew – The Writer
Look back at Artist Of The Day : Bless 1
---
Next up,
Chelsea Taube
one of the very first Artists Of The Day we featured. Chelsea's song Desperate Winters is featured on the new Loose Music compilation disc
Country Girl :New Sounds Of The Old West Vol.5
alongside other artists such as
Devon Sproule, Laura Gibson, Jaimi Shuey, Oh Susanna, Jenny Whiteley, The Watson Twins, Cat Martino, Jenn Grant, Jill Barber, Emily Barker, Nina Violet & The Invisible Orchestra, Salt, Ana Egge, The Mendoza Line, Rachel Ries, Lana Rebel, Redlands Palomino Co.
Pick up your copy
here
. Here are two brand new songs Chelsea recently posted to her myspace page.
MP3: Chelsea Taube – Carolina Moon
MP3: Chelsea Taube – So He Strays
Look back at Artist Of The Week : Chelsea Taube
---
Last but not least is
Desmond Reed
. Desmond has his song
Who I'd Like To Meet
featured on a recent compilation,
Baby Boom Records Sampler 002
Desmond's quirky, catchy, songs instantly embed themselves permanently into your world. Here's a couple recent new ones from him.
MP3: Desmond Reed – New
MP3: Desmond Reed – When I Met Michelle
Look back at Artist Of The Day : Desmond Reed
Concerted by Jonathan Fischer –
www.myspace.com/concertedcomic
Jonathan usually sends along a small music related footnote, as of today I will be including that as well as the comic. Enjoy !
Today in 2003, Adam Ant was arrested after going berserk and stripping off in a London cafe. The former 1980's pop star had thrown stones at neighbour's homes smashing windows before going to the nearby cafe.
For a lazy Sunday morning let's kick back with a cup of coffee and some painting by numbers.

Since January 1, 2007 :
23610 visitors to Bag Of Songs have read 122 posts featuring 264 songs and left us 45 comments. 197 other blog posts link to here and Bag Of Songs is currently the 145,642 most popular blog on the web according to Technorati. There was 1 winner of our 10,000th post contest. There've been over 700 email messages sent to me. I've taken over 1500 photos of 70 different bands at 32 shows in 12 venues. I've Added 1617 new songs from 251 albums by 224 artists to my iTunes.
Paint by numbers of our Bag Of Songs mascot from PhotoDoodle.com, where you can upload any photo to create your own custom painting by numbers.
MP3: The A's – Painting By Numbers
from the long Out Of Print Four Dances EP
Looking for something to do tonight in Philadelphia. Head on down the World Cafe Live and catch Contramano. A trio fronted by Brooklyn via Argentina cello player Pablo Cubarle, Contramano's music is a raw and powerful blend of alternative indie rock and precussive Latin rhythms. Imagine the sound of throwing the Talking Heads, The Pixies, Cold War Kids and Los Lonely Boys all together and you'll start to get an idea of what they sound like.
Their new album Unsatisfecho is eleven songs full of quirky danceable endearing goodness that will keep you coming back again and again. Check out the title track Unsatisfied for a taste of their unique mix of influences.
MP3: Contramano – Unsatisfied
BUY Unsatisfecho
Here's a taste of Contramano live playing the song Contramano at Queens Theatre in the Park in NYC

The Midnight Sessions : Contramano w/DJ KiK
Saturday , June 9, 2007
World Cafe Live (Upstairs)
at Midnight
[WEBSITE] [MYSPACE] [DJ KiK MYSPACE]
Gestalt psychology is a theory of mind and brain that proposes that the operational principle of the brain is holistic, parallel, and analog, with self-organizing tendencies; or, that the whole is greater than the sum of its parts. The classic Gestalt example is a soap bubble, whose spherical shape (its Gestalt) is not defined by a rigid template, or a mathematical formula, but rather it emerges spontaneously by the parallel action of surface tension acting at all points in the surface simultaneously. The Gestalt effect refers to the form-forming capability of our senses, particularly with respect to the visual recognition of figures and whole forms instead of just a collection of simple lines and curves.
If you've ever made a mixtape, or a mix cd this is the underlying theory affecting how your selections sound together.
In other words, how you can sometimes see or hear what really isn't there, or is it ?
1: St Germain – Rose Rouge
Buy Tourist
2: Seu Jorge – Chatterton
Buy Cru
3: Curtis Mayfield – (Don't Worry) If There's A Hell Below We're All Going To Go
Buy Curtis
4: Ray Charles – Rockhouse
Buy The Birth Of Soul (1952-1959)
5: Julie London – You'd Be So Nice To Come Home To
Buy Time for Love – The Best of Julie London
Sometimes it's good to be on "The List". Last night's LCD Soundsystem show at The TLA(Fillmore) in Philadelphia was a freebie sponsored by myspace's "The List". All of the tickets were given away free via a myspace contest. Local radio station Y-Rock also gave some away. The free tickets insured the place was packed as Myspace was filming the entire concert to be placed on the web later. Considering it was a myspace giveaway the crowd was a good mix of all ages not overly skewed towards myspace's younger demographic. Doors opened at 8:00 but LCD didn't hit the stage until approximately 9:15 and they played until about 10:30. Just over an hour, but the energy level was insane through the whole thing. As electronic as they may sound there's no drum machines, they play all of it with a full band and let me tell you they know how to rock. I'd say the highlights were the faster more rocking version Daft Punk Is Playing At My House, All My Friends, which was absolutely transcendent live far superior to the album version,and Yeah which had the entire crowd going nuts and singing along.
The Joy Division cover in the encore was also very cool to get All in all a great show, definitely worth catching if they come your way. Except for a handful of US shows most of their upcoming tour dates are in Europe and beyond.
LCD Soundsystem (Myspace "The List")
6/6/07 at the TLA(Fillmore) Philadelphia PA

Us Vs Them
Daft Punk Is Playing At My House
Time To Get Away
North American Scum
All My Friends
Tribulations
Watch The Tapes
Movement
Yeah
Encore:
No Love Lost (Joy Division cover)
New York I Love You But You're Bringing Me Down
UPDATE 6/11/07 : Here's aphoto from the show

Upcoming Tour Dates
Jun 8 2007 8:00P Mezzanine San Francisco, California
Jun 10 2007 8:00P The El Rey Los Angeles, California
Jun 11 2007 8:00P The El Rey Los Angeles, California
Jun 12 2007 8:00P El Rey Los Angeles, California
Jun 16 2007 8:00P Hyde Park Festival w/ DAFT PUNK London
Jun 17 2007 8:00P Wireless Festival Leeds
Jun 30 2007 8:00P Wertcher Festival Wertcher
Jul 1 2007 8:00P Heineken Opener Festival Gdynia
Jul 4 2007 8:00P Super Bock Super Rock Festival Lisbon
Jul 5 2007 8:00P Roskillde Festival Roskillde
Jul 8 2007 8:00P CALVI ON THE ROCKS FESTIVAL Corsica
Jul 12 2007 8:00P TRAFFIC FESTIVAL Turin
Jul 13 2007 8:00P Summercase Barcelona, Barcelona
Jul 14 2007 8:00P Summercase Madrid, undefined
Jul 18 2007 8:00P Ibiza Rocks Festival Ibiza
Jul 20 2007 8:00P Vieilles Charrues Vieilles Charrues
Jul 21 2007 8:00P ANGOULEME FESTIVAL ANGOULEME FESTIVAL
Aug 3 2007 8:00P lollapalooza Chicago, Illinois
Aug 4 2007 8:00P V festival Washington DC, Washington DC
Aug 11 2007 8:00P SUMMERSONIC Tokyo
Aug 12 2007 8:00P SUMMERSONIC Osaka
Aug 17 2007 8:00P ROUTE DU LA ROCK Saint Malo
Aug 19 2007 8:00P LOWLANDS Holland, Zuid-Holland
Aug 24 2007 8:00P Carling Festival Leeds
Aug 25 2007 8:00P Creamfields Festival Liverpool
Aug 26 2007 8:00P Carling Festival Reading
Aug 31 2007 8:00P ELECTRIC PICNIC .
Sep 1 2007 8:00P Mandela Hall Belfast
Sep 2 2007 8:00P Connect Inverary Castle, Scotland