Some photos from this past Friday night's all local show at Johnny Brenda's in Philadelphia. It was a packed house from the get go as Bitter Bitter Weeks kicked off the night with an excellent set that focused on the more rock side of their catalog and left the quieter numbers at home this time for a high energy set that recalled at times the southern jangle sound of early REM or Let's Active. Up next was Missing Palmer West, a band who I somehow managed to have not seen until now, let me say I will be correcting that mistake go forward. Their keyboard driven, cello infused blend of indie pop is excellent. They have a new EP in the works and it is one I will be on the watch for. BOS favorites The Swimmers closed the night and threw a bit of multimedia effects into the mix this time out as they played while a film rolled on to the giant screen behind them. Their set was a blend of brand new songs and old favorites and also included a blistering cover of David Bowie's Star.
Big big thanks to my new friend and fellow music fanatic Phil Appenzeller for all of the photos.
Bitter Bitter Weeks


Missing Palmer West

The Swimmers

[All Photos By Phil Appenzeller]

My apologies to Lillie Ruth Bussey for missing her set as I arrived at Johnny Brenda's this past Thursday Night for Aderbat's Cd Release party just as Bitter Bitter Weeks was taking the stage. They opened with one of my personal favorites of theirs, Lo-Res and the night was off to excellent start. Bitter Bitter Weeks jangly shimmering guitar pop sounded excellent despite the fact that Brian McTear was having some trouble with his voice going out early into their set. Next up was an hotly anticipated set by East Hundred, the crowd in the room seemed to double as they prepared to play. Fronted by the charismatic and charming Beryl Guceri their audience seems to be growing everytime I see them. They have a keyboard driven sound with an early eighties feel that would not sound out of place alongside bands like Echo and The Bunnymen or Siouxsie And The Banshees. Aderbat was up next, kicking off their set with We Belong To The Sea, the title track from their brilliant new album. Aderbat's music is a finely woven tapestry of melody and soft dynamics that draws you in deep and keeps you there. Frontman Matt Taylor has a look similar to a young Bob Dylan and voice I can best describe as somewhere between Jeff Buckley and Nick Drake. Imagine all that together and you'll have an idea of what they kind of sound like. An excellent night of music all around.
Bitter Bitter Weeks


East Hundred

Aderbat
This past Thursday at Johnny Brenda's was another display of the amazing musical force that is currently swirling in Philadelphia. The A-Sides were celebrating the release of their brand new Vagrant Records CD Silver Storms (rls date 9/18/07) and brought The Capitol Years and Bitter Bitter Weeks along for the ride. It was a packed house for an all around astounding night of music kicked off with one of the best sets I've seen Bitter Bitter Weeks play yet. Capitol Years were up next, my first time seeing them and they were phenomenal, closing their set with a version of the George Harrison song Wah Wah including the addition of 7 or 8 special guests on stage to help out. Wow. Then came The A-Sides. I had seen the A-Sides play a somewhat disappointing set due to muddy sound problems a couple weeks back at the XPoNential Music Fest, but there were no problems Thursday night, and they delivered all I could have expected and more, encoring with a loose yet faithful version of Springsteen's Backstreets Here's some photos of the fun.
Here's a musical sample for you:
The A-Sides – Diamonds [WEBSITE] [MYSPACE]
Buy Silver Storms
The Capitol Years – You Can Stay There [WEBSITE] [MYSPACE]
Buy Dance Away The Terror
Bitter Bitter Weeks – Lo – res [WEBSITE] [MYSPACE]
Buy Peace Is Burning Like A River
The A-Sides
[PHOTO BY SinABox CAMERA]
The Capitol Years
[PHOTO BY SinABox CAMERA]
[PHOTO BY SinABox CAMERA]
Bitter Bitter Weeks
[PHOTO BY SinABox CAMERA]
Bitter Bitter Weeks – Lo-res
This past Tuesday saw the release of the excellent new disc from Philadelphia's Bitter Bitter Weeks, Peace Is Burning Like A River. The first two Bitter Bitter Weeks records were essentially solo records by Brian McTear. For this disc the he wanted to develop a more complex and orchestrated sound and enlisted supporting musicians and featured guest performances by members of Mazarin, Apollo Sunshine, The A-sides, BC Camplight, The Velvet Crush and more. The result is reminiscient of the powerful jangly sounds emanating from the deep south in the 80's from bands like REM, Let's Active, and The Db's.
There are also companion videos for each song being released check out the clip for Lo-res, one of my favorite songs from the new disc, above. See them all as they are released at http://peaceisburninglikeariver.com/
Bitter Bitter Weeks have some shows coming up this week including tonight in Boston and a big CD Release party this weekend in Philadelphia at Johnny Brendas. Be sure to head on out.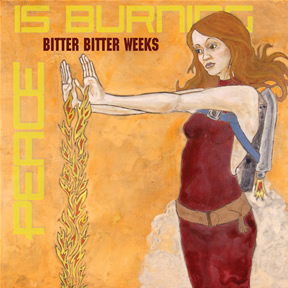 Here's another track from the new disc, Peace Is Burning Like A River.
MP3 : Bitter Bitter Weeks – Terrified
Buy Peace Is Burning Like A River

Upcoming Shows
Jun 14 2007 8:00P The Middle East (Upstairs) Cambridge, MA
Jun 16 2007 8:00P Johnny Brendas (w Mary Timoney and Georgie James) PA
Jul 20 2007 1:00P XPonential Music Festival (WXPN) Camden, New Jersey
[MYSPACE]
Some photos from this past Friday night at Johnny Brenda's in Philadelphia. First up was Creeping Weeds, whose new disc We Are All Part Of A Dream You're Having is one of my current favorites. This was the third time I've seen them and they just keep getting better and better. Next up was Bitter Bitter Weeks celebrating the upcoming release of their new disc Peace Is Burning Like A River with a great set of their shimmering, jangly songs.
Apollo Sunshine with special guest vocalist Quentin Stoltzfus of Mazarin closed out the night with a set of blistering rock.
Some photos of last night's show with The Pernice Brothers at Johnny Brendas in Philadelphia. My first time at waht is truly a fantastic new venue in Philadelphia.

Philly's own Bitter Bitter Weeks kicked off the night with a set comprised mostly of new songs for a forthcoming cd, which if the live show is any indication will be a 2007 contender in a big way. Elvis Perkins went on next,a ;little too contrived for my personal taste, but they performed a nice tight set which was well received by the crowd. Joe and the boys came on next and were in stellar form , tearing the place down with a set chock full of songs from their new Live A Little disc.