Named after an old Herschell Gordon Lewis movie, Detroit's Gore Gore Girls are bringing their Motown girl group meets The Ramones sound to the 449 Room in Trenton NJ this Saturday. With a new album entitled Get the Gore coming out in June on Bloodshot Records, the girls are embarking on their first tour in two years. Check out a taste of the new disc with the couple tunes below and head on out to Trenton this Saturday to get your go-go boots rocked off.
Also on the bill is one of Trenton's finest alternative rock bands The Frantic, and Harrisburg PA's The Thrives
MP3: Gore Gore Girls – Fox In A Box
MP3: Gore Gore Girls – All Grown Up
[Website] [Myspace]

MP3: The Frantic – Someting New
[Website] [Myspace]
MP3: The Thrives – Leaving Behind
[Myspace]

Saturday April 21
Randy Now Presents
Gore Gore Girls,The Frantic, and The Thrives
at 449 Room
449 South Broad Street Trenton, NJ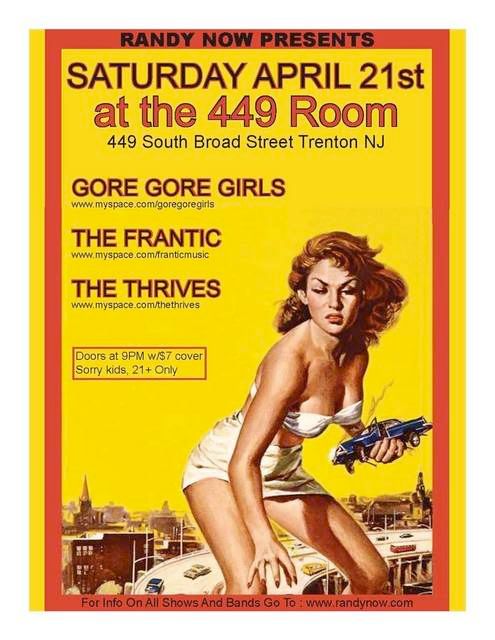 Some photos from a show I went to see this past Saturday at the 449 Room in Trenton NJ. Boston's The Charms fronted by the lovely Ellie Vee headlined the night and delivered a powerhouse set of sixties inspired garage rock. Also on the bill were three of NJ's finest, the power pop punk Fiendz,The 7 piece garage rock Cryptkeeper 5, and The Frantic with a bit more modern take on the genre, similar to The Strokes or The Killers. All in all a great night of music with four hot bands and only $5.