Some photos of the Gore Gore Girls bringing the rock and roll to the 449 Room in Trenton last night.
The Setlist :
Hot Rod/Voodoo,Fox In A Box,Loaded Heart,Mary Ann,Starstruck,Automatic Love,Pleasure Unit,Sweet Potato,Fight Fire,Little Baby,So Sophisticated,All Grown Up,Don't Cry,You Lied To Me Before,Buried & Dead,Astral Man, Casino
Be sure to catch them if they headed your way.
Upcoming Gore Gore Girls Shows
Sun, 4/22/07 The Jewish Mother Virginia Beach, VA
Mon, 4/23/07 Local 506 Chapel Hill, NC
Wed, 4/25/07 The Map Room Charleston, SC
Thu, 4/26/07 The Earl Atlanta, GA
Fri, 4/27/07 The Nick Birmingham, AL
Sat, 4/28/07 Phoenix Hill Louisville, KY
Mon, 4/30/07 Melody Inn Indianapolis, IN
Tue, 5/01/07 Atomic Cowboy St. Louis, MO
Wed, 5/02/07 The Picador Iowa City, IA
Thu, 5/03/07 7th Street Entry Minneapolis, MN

Named after an old Herschell Gordon Lewis movie, Detroit's Gore Gore Girls are bringing their Motown girl group meets The Ramones sound to the 449 Room in Trenton NJ this Saturday. With a new album entitled Get the Gore coming out in June on Bloodshot Records, the girls are embarking on their first tour in two years. Check out a taste of the new disc with the couple tunes below and head on out to Trenton this Saturday to get your go-go boots rocked off.
Also on the bill is one of Trenton's finest alternative rock bands The Frantic, and Harrisburg PA's The Thrives
MP3: Gore Gore Girls – Fox In A Box
MP3: Gore Gore Girls – All Grown Up
[Website] [Myspace]

MP3: The Frantic – Someting New
[Website] [Myspace]
MP3: The Thrives – Leaving Behind
[Myspace]

Saturday April 21
Randy Now Presents
Gore Gore Girls,The Frantic, and The Thrives
at 449 Room
449 South Broad Street Trenton, NJ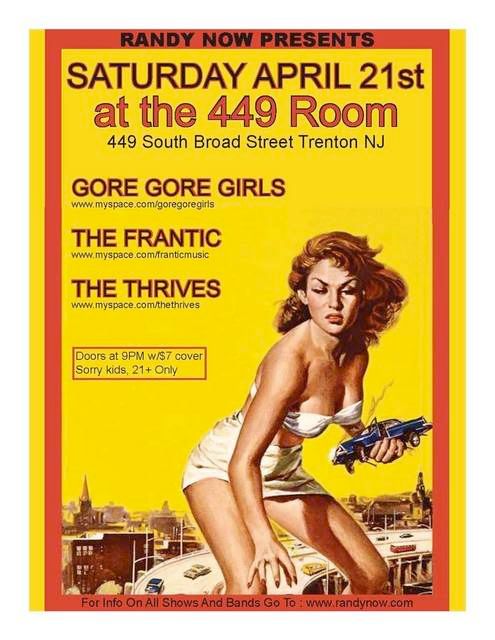 What I've been listening to most this week : LCD Soundsystem – Sound Of Silver, The Fratellis – Costello Music, Nine Inch Nails – Year Zero, a lot of iPod shuffle time, and even some radio(WXPN).
---
K'nise Connections' pick of the week is the indie alternacoustic sounds of London's Grand Central. Think Midlake meets Coldplay and you'll have an idea of what they sound like.
---
Some Things Coming Up This Week
The first Popped Festival takes place in Philadelphia this week. Although based on the numerous last minute venue and scheduling changes it hints at being a disorganized mess there's still a lot of great music to check out, and almost all of it is all-ages events.

04/09/2007 08:00 PM – Make A Rising, Pattern is Movement,The Asteroid No.4, The Cobbs@ Johnny Brenda's 1201 N. Frankford Ave, Philadelphia, 19125 – $10 21+ Event
04/10/2007 07:30 PM – StinkingLizaveta,Grandchildren,NormalLove,BearIsDriving,BarkingSpiders @ Avant Gentlemens Lodge 4028 Filbert St., Philadelphia, Oregon 19104 – $10
04/11/2007 07:30 PM – Notekillers, Low Budgets, Mtn.High,Northern Liberties, Bad News Bats @ Millcreek Tavern 4200 Chester Ave, Philadelphia, Pennsylvania 19123 – $10
04/12/2007 08:00 PM – Golden Ball, King Kong Ding Dong, The War on Drugs, Fursaxa, Fan of Friends @ TheParlor 1170 s. broad st., Philadelphia, Pennsylvania – $10
04/13/2007 08:00 PM – Dr. Dog, The Spinto Band, Bardo Pond, Illinois
Starlight Ballroom, Philadelphia, Oregon 19123 – $15
04/14/2007 02:00 PM – Hail Social, Phil Moore Brown, Feather Mills, Public Record, and Movable Type
1000 N. block of Hancock St. btwn Front and 2nd St. & Girard and Laurel St, Philadelphia, Pennsylvania 19123 – Free Philebrity Block Party
04/15/2007 06:00 PM – Pissed Jeans,Sharks With Wings,Birds Of Maya,Satanized,Affirmative Action Jackson, Drums Like Machine Guns – $10
originally at Red Warehouse, this show is now at the Firefighter's Lounge. 415 N. 5th Street at Willow
Be sure to check their website or myspace for any last minute changes before you head out.
---
Amazing power pop band,The Celebrities start an ongoing Thursday Night residency at the 449 Room in Trenton NJ. From the bands myspace:
After performing all over the east coast with the likes of OKGO, Albert Hammond Jr. of The Strokes, The Pink Spiders, and even the legendary Beach Boys with their previous bands LUZER and Dr. Thunder, Timmy Sean (vocals/guitar/keys), Chris Volk (lead guitar/keys), Dan Seeth (drums) and Krishna "The Mania" Vasudevan (vocals/bass) officially formed The Celebrities ringing in the New Year on January 1. Since that time the band has written more than twenty songs, including the four tracks featured on "The Free Four All Demo", a sampler EP available for free beginning April 7. The four songs can also be downloaded online from the band's official MySpace page. "We're really proud of our new music, and we just want as many people to hear it as possible…even if that means putting it out there for free," says The Celebrities' chief songwriter Timmy Sean.

MP3: The Celebrities – She's Mine
MP3: The Celebrities – East Coast Girls
Some photos from a show I went to see this past Saturday at the 449 Room in Trenton NJ. Boston's The Charms fronted by the lovely Ellie Vee headlined the night and delivered a powerhouse set of sixties inspired garage rock. Also on the bill were three of NJ's finest, the power pop punk Fiendz,The 7 piece garage rock Cryptkeeper 5, and The Frantic with a bit more modern take on the genre, similar to The Strokes or The Killers. All in all a great night of music with four hot bands and only $5.