Concerted by Jonathan Fischer –
www.myspace.com/concertedcomic
Some photos from this past Friday night at Johnny Brenda's in Philadelphia. First up was Creeping Weeds, whose new disc We Are All Part Of A Dream You're Having is one of my current favorites. This was the third time I've seen them and they just keep getting better and better. Next up was Bitter Bitter Weeks celebrating the upcoming release of their new disc Peace Is Burning Like A River with a great set of their shimmering, jangly songs.
Apollo Sunshine with special guest vocalist Quentin Stoltzfus of Mazarin closed out the night with a set of blistering rock.
This week for 5 On A Friday, a a taste of what was "hot" this week.
(sorry no direct MP3 links today, all will direct you to another page where you can hear the song)

1:Sure, Amercian Idol wasted a lot of powerful technology to bring you Celene Dion singing with a virtual Elvis, but this was the one AI moment you truly needed to see.

2: Covering LCD Soundsystem's song All My Friends was one of the in things to do. Here are versions by by Franz Ferdinand and John Cale.
MP3: Franz Ferdinand – All My Friends (via Kwaya Na Kisser)
MP3: John Cale – All My Friends (via Let's Sexy Fighting)

3: Icky Thump. For me Jack White's been long past overkill, but he's still back with more. Here's the first single for the new White Stripes disc of the same name.
MP3: The White Stripes – Icky Thump (via Your Head's Not Right)
4: iTunes UK springs a leak allowing an early return of Bjork from the planet Iceland with more of her trademark soundscaping.
MP3 : Bjork – Earth Intruders (via Who Killed The Mixtape)
5: A baby spoonful of information about the new Spoon disc. The cover art for Ga Ga Ga Ga Ga.
It's not often that use this space to editorialize on an issue, but this is pretty important. I honestly don't listen to a tremendous amount of internet radio myself but that doesn't make this issue any less relevant. If you lament the current extremely sad state of commercial FM radio these days you need to take an interest here. If this ruling stands as it is, internet radio will become just another outlet for the same commercialized repetitive low quality programming that dominates the FM airwaves. Why?, you say. Because they will be the only ones who can afford to bring it to you. Small independent and non-profit streaming web radio sites will no longer be able to afford to continue. Take action now.

I am reposting this letter from Roger LaMay ,General Manager of WXPN as it stresses the importance of the Copyright Royalty Board's recent ruling on this issue.
Thanks
-tom
Copyright Royalty Board Update
Recently, the U.S Copyright Royalty Board issued a ruling that dramatically increases the royalties paid to rights holders for streaming music on the Internet. While public broadcasters have been paying negotiated royalties to music publishers/songwriters for some time, this marks the first time, due to increased activity and new technology that we have been asked to pay the "performers" royalties. The board ruling set new rates that are 250% above copyright royalties. Even more ominous is that these royalties by themselves greatly exceed the revenues that the handful of public stations like XPN who are committed to music streaming generate or expect to generate in the near future. These services all are committed to playing artists who do not otherwise get airplay on commercial radio.
Section 118 of the Copyright Act of 1976 specified "a fair return to copyright owners without unfairly burdening public broadcasters." Clearly this is not the case here. Therefore, Congress will introduce a bill this week addressing both noncommercial and commercial streaming services, the "Internet Radio Equality Act". This legislation recognizes public radio's public service mission and will put these royalties under the same system and standards as the royalties we currently pay to the publishers/songwriters. We believe artists should be fairly compensated but under a system that allows the continuing operation and development of the Internet streaming of music that does not get exposure in commercial broadcasting.
Please contact your congressional representatives in the next week and ask them to co-sponsor and support the Internet Radio Equality Act. The future of non-commercial Internet music streaming depends on getting relief from this onerous new burden. We are pursuing this acknowledgement of the special role of public broadcasting in negotiations, through legislation and in the courts.
Thank you and stay tuned.
Roger LaMay, General Manager WXPN
Some other things from around the blog-o-sphere for today.
So Much Silence has a live set from the Broken West on KCRW from 4/19/07
Heather at I Am Fuel,You Are Friends has the new Paul McCartney single –Ever Present Past from his debut Starbucks release.

Teenage Kicks profiles the letter "C" in their ongoing Alphabet Project
YouTube has the new Snow Patrol song/video from – Signal Fire – From the Spiderman 3 Soundtrack

The Yellow Stereo's Daily Graboid for this week features mp3s from eighteen of this week's new releases
I've found more often than not a band's own perception of what they sound like is more rooted in what they "want" to sound like as opposed to what they really sound like. There's the exception to every rule and I think Alasdair Maclean of the Clientele pretty much nails it when he sums up his band's new record thusly :
"The band are setting free their inner Monkees; a lovely blend of Big Star
twisted power-pop and country achin', with flashes of the Beatles at their most
joyful and upbeat. The ghosts, half-light and uncertainties remain, but I sense
a new found optimism in the music."
I'll admit to never having even heard of The Clientele before this ,their third record, but that blurb picqued my interest. God Save The Clientele is a breezy joyful pop record that is the perfect accompaniment to spring days full of sunshine. Gently picked and softly strummed acoustic guitars mix with piano, violin,pedal steel and slide guitar to create spacious almost orchestral sounding arrangements. Fans of bands like the Pernice Brothers or Midlake will thoroughly enjoy this record. It's steeped deep in influence while forging it's own sound and they're not afraid to wear it on their sleeve either, Isn't Life Strange seems to pay homage to the Moody Blues song of the same name while Bookshop Casanova reworks lyric snippets from the Beatles B-Side You Know My Name (Look up the Number) into a completly new song.
The album was Recorded in Nashville with producer Mark Nevers (Lambchop, Bonnie "Prince" Billy, Calexico, Silver Jews) and has a US release date of May 8th on Merge records.
The band is currently in the midst of a US / Canadian tour, be sure to catch them when they come through your town.
The Clientele is :
Alasdair Maclean
James Hornsey
Mark Keen
Mel Draisey
MP3: The Clientele – Here Comes the Phantom
MP3: The Clientele – The Dance of the Hours
[myspace] [website] [blog] [BUY IT from merge] [hear more Clientele music]

Upcoming The Clientele Tour Dates
05.06.2007 Hoboken NJ Maxwell's
05.07.2007 Philadelphia PA Johnny Brenda's
05.08.2007 Washington Black Cat
05.09.2007 Charlottesville VA Satellite Ballroom
05.10.2007 Carrboro NC Cat's Cradle
05.11.2007 Charleston SC Map Room
05.12.2007 Atlanta GA The Earl w/ Beach House
05.13.2007 Nashville TN The Basement w/ Beach House
05.14.2007 Memphis TN Hi Tone w/ Beach House
05.16.2007 Baton Rouge LA Spanish Moon w/ Beach House
05.17.2007 Houston TX Walter's on Washington w/ Beach House
05.18.2007 Denton TX Hailey's w/ Beach House
05.19.2007 Austin TX Emo's Lounge w/ Beach House
05.21.2007 Tempe AZ Modified w/ Beach House
05.22.2007 San Diego CA Casbah w/ Beach House
05.24.2007 Los Angeles CA Knitting Factory w/ Beach House
05.25.2007 Visalia CA Howie & Son's Pizza & Beer Parlor w/ Beach House
05.26.2007 San Francisco CA Great American Music Hall w/ Beach House
05.27.2007 Portland OR Doug Fir w/ Beach House
05.28.2007 Seattle WA Crocodile Cafe w/ Beach House
05.31.2007 Minneapolis MN 400 Bar w/ Beach House
06.01.2007 Madison WI High Noon w/ Beach House
06.02.2007 Chicago IL Subterranean w/ Beach House
06.03.2007 Detroit MI Magic Stick w/ Beach House
06.04.2007 Toronto ON El Mocambo
06.06.2007 Montreal QC Club Lambi w/ Beach House
06.08.2007 New York NY Bowery Ballroom w/ Beach House
06.09.2007 Boston MA Museum of Fine Arts w/ Beach House
Concerted by Jonathan Fischer –
www.myspace.com/concertedcomic
Some photos of the Gore Gore Girls bringing the rock and roll to the 449 Room in Trenton last night.
The Setlist :
Hot Rod/Voodoo,Fox In A Box,Loaded Heart,Mary Ann,Starstruck,Automatic Love,Pleasure Unit,Sweet Potato,Fight Fire,Little Baby,So Sophisticated,All Grown Up,Don't Cry,You Lied To Me Before,Buried & Dead,Astral Man, Casino
Be sure to catch them if they headed your way.
Upcoming Gore Gore Girls Shows
Sun, 4/22/07 The Jewish Mother Virginia Beach, VA
Mon, 4/23/07 Local 506 Chapel Hill, NC
Wed, 4/25/07 The Map Room Charleston, SC
Thu, 4/26/07 The Earl Atlanta, GA
Fri, 4/27/07 The Nick Birmingham, AL
Sat, 4/28/07 Phoenix Hill Louisville, KY
Mon, 4/30/07 Melody Inn Indianapolis, IN
Tue, 5/01/07 Atomic Cowboy St. Louis, MO
Wed, 5/02/07 The Picador Iowa City, IA
Thu, 5/03/07 7th Street Entry Minneapolis, MN

Named after an old Herschell Gordon Lewis movie, Detroit's Gore Gore Girls are bringing their Motown girl group meets The Ramones sound to the 449 Room in Trenton NJ this Saturday. With a new album entitled Get the Gore coming out in June on Bloodshot Records, the girls are embarking on their first tour in two years. Check out a taste of the new disc with the couple tunes below and head on out to Trenton this Saturday to get your go-go boots rocked off.
Also on the bill is one of Trenton's finest alternative rock bands The Frantic, and Harrisburg PA's The Thrives
MP3: Gore Gore Girls – Fox In A Box
MP3: Gore Gore Girls – All Grown Up
[Website] [Myspace]

MP3: The Frantic – Someting New
[Website] [Myspace]
MP3: The Thrives – Leaving Behind
[Myspace]

Saturday April 21
Randy Now Presents
Gore Gore Girls,The Frantic, and The Thrives
at 449 Room
449 South Broad Street Trenton, NJ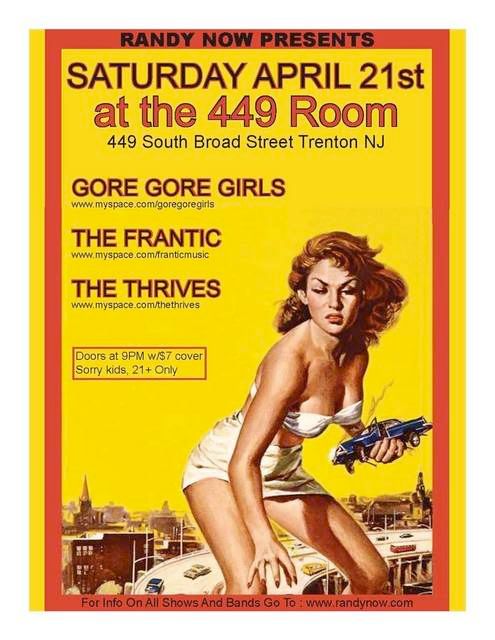 Concerted by Jonathan Fischer –
www.myspace.com/concertedcomic